It's a high spec direct thermal printer that can print on both sides.
You can select the head size on the top and bottom according to the application.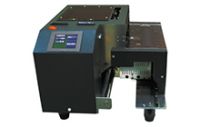 Print on both sides simultaneously.
There is a wide selection of options, such as 4-sided on both sides, 4-inch on front and 2-inch on back, 2-inch on front and 4-inch on back, 2-sided on both sides.
If you select a ribbon, you can print different colors on one side, and the design is excellent.
Easy management of printed contents on upper and lower sides by PC
Head up when there is little print data such as date.
Save ribblon proportional to data length.
It enables you to print four directions: forward, reverse, vertical, and horizontal.
We support a large variety of characters, barcodes, ruled lines, QR code, 2D codes, image files and serial numbers.
Use in the set: Feeder / Stacker
We combine with direct thermal printers and auto labelers and support paper feeding and work stocking.
In-pack label date printing
CPS-85E / SCS (radial type)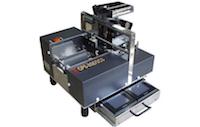 This machine is equipped with a radial type printer on the in-pack label printing machine.
We can propose a significant reduction of running cost!
Specifications (It may be different depending on the destination country.)
Model
CPS-UB44Ⅱ
CPS-UB42Ⅱ
CPS-UB24Ⅱ
CPS-UB22Ⅱ
Work size
70~340(W)×110~400(L)
Printing method
Thermal ribbon heat transfer method
4 inches head 12 dots 1280 dots / line
2 inch head 12 dots 640 dots / line
Print head
4 inches 12dot×2
4+2 inches 12dot×2
2 inches 12dot×2
Print area
106×200mm(L)×2
106×200mm(L)+53×200mm(L)
53×200mm(L)×2
Printing speed / number of processed sheets
200mm/sec【100mm/sec~250mm/sec (Changeable setting)】/40 sheets / (A5 size) ※1
Character type
Barcode (2of5[ITF]、JAN[13.8]、2of7[NW7]、3of9[CODE29]、
CODE・128[CODE SUBSET A、B、C]) ・OCR・Line・CR code・Win font 8 types・Vertical、Horizontal enlargement (1 to 4 times)・ANK・Chinese character
Print position / Print direction
Free setting (There are a dead zone in some areas, and an unprintable position.)
0° / 90° / 180° / 270°
External dimensions
590×330×370
Power supply / Weight
AC100V・600W・50/60Hz・40kg
Option
Editing software・Feeders・Stackers・Charge removal device
※1 The number of processed sheets changes depending on the work status and serial status.