Introducing direct thermal printer for its printing of empty soft packaging
Bringing great efficiency by automatic setting of variable data such as expiration date and direct printing
Shinmei's "Direct Thermal Printer" has been introduced for various food processing manufacturers.
The print contents can be freely set according to the customer's usage.
If you want to use a bag of the same shape of soft packaging material for multiple different products, please prepare one kind of common bag and apply gravure printing on the invariant parts in advance. It is also possible to use as a print area by leaving a print space in variable parts such as batch display.
All displays can be printed within the printable area. Customers have used our product for printing only the date or lot number, such as the expiration date. Even in that case, unlike conventional hot printers and other machines, it does not use print. Therefore, you don't need to waste the time after turning on the power and wait until the machine to warm up.
Reduce the time and effort to put labels, and raise the productivity.
If you need to label, we recommend labeler for empty bags.
Even though it's simple and non-productive tasks, product labels are essential for business activities. Besides that, there are many labels such as point stickers and new sale stickers. If the type of label increases, the work of pasting also increases twice and three times.
At the work site, various ideas have been made to improve work efficiently. However it takes more time if it requires the higher accuracy to workers.
This labeling work can be solved with Shinmei's empty bag labeler.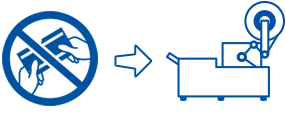 Product proposal tailored to your business
By connecting with other company's label printer, it pastes labels while printing on an empty bag or three-dimensional object
Although it can't be connectted with any label printer of each company, we propose the system in which a label is attached while printing a plain label by connecting with a label printer of other companies.
Both three-dimensional and empty bags are applied.
Printing variable information such as date, time, lot printing, ingredient, logo, trademark, marketing information on soft packaging material has been proven.
Please feel free to contact us if you have any problems with printing or display.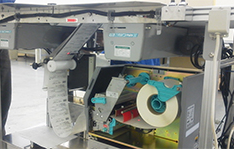 *Photos are a label printer of company T and ALS-100Ⅱ.