Continuous type (head fixed)
SCS400c Series SCS410c /SCS420c/ SCS430c
It enables you to install multiple devices because of its compact size body,
You can reduce running cost by adding a radial control function (ribbon save function).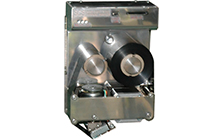 The ultra compact design allows installation in a small space. We adopt a continuous system that follows the encoder and forms characters. You can choose from 1 inch, 2 inch and 3 inch depending on the application.
SCS410c Print area 32mm×100mm
SCS420c Print area 53.3mm×200mm
SCS430c Print area 74.6mm×200mm
Radial ribbon save control
Continuous type addopts a method which prints while the film is flowing under the printer head. There are two patterns: one for printing at right angles to the film and the other for printing in the flow direction.
When used in applications that print single-line dates, right-angle printing uses the full ribbon width, so you don't waste it. However, in the case of flow printing, since the ribbon is consumed horizontally to the ribbon width, the upper and lower parts of the ribbon are wasted.
The "radial ribbon save control" function has been developed as a solution for that problem.
Direct thermal printer with this function automatically arranges and controls the character height and number of lines automatically.
We introduced this system only to 1 inch printer, but it will be an effective option for those who require date printing.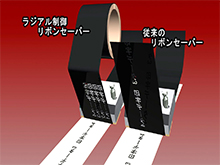 Touch panel input device WS 100
WS-100 is an interface for our direct thermal printer.
Select the print data registered in advance in the SD card, and input/set the various information such as print timing, number of prints, date of manufacture, expiration date, lot number, etc.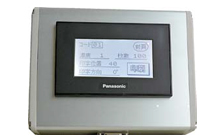 Intermittent type (head movement)
SCS400i Series SCS410i/SCS420i
Compact size and easy installation. It realizes head movement according to print length.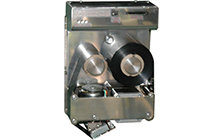 We adopt an intermittent type that moves the head and prints when the film stops. Since the head moves, the size is slightly larger than the continuous type, but it is still a compact design. Currently 2 inches and 3 inches are under development and only 1 inch is now available. Because the printing area is limited, please use it for specific purposes, such as production date, expiration date, and lot number.
SCS410i Print area 32mm×40mm
SCS420i Print area 53.3mm×40mm
Image check device
Attached to the back of the direct thermal printer, it instantly determines the condition of the printed date.
Since the film timing is registered and stored in the input device (WS-100), the image check device starts working with the start of the printer without doing anything on site.
If it can't determine the date with no printing or thining, it notifies to operators as NG and prevent printing errors.


Continuous type
CPS-64Pro
Automatic packaging machines: the same direct thermal printer unit as the desktop CPS-354Pro II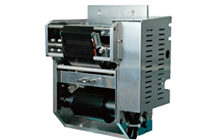 It is a continuous type dedicated direct thermal printer that can print a large print area of up to 4 inches (106 mm x 200 mm). It has a large printing area with its 4 inch printer head.
It is recommended for those who are not satisfied with 3 inches and want to have a little larger print.
Specifications (It may be different depending on the destination country.)
Continuous type (head fixed) SCS400c series
Product Name / Model
SCS410c
SCS420c
SCS430c
External dimensions
124(W)×187(H)×60(D)
124(W)×187(H)×82(D)
144(W)×198(H)×112(D)
Power supply
DC24・4A
DC24V・6A
DC24V・10A
Tracking speed
60~500mm/sec
60~500mm/sec
60~500mm/sec
Maximum print width
32×100mm
53.3×200mm
74.6×200m
Thermal ribbon
36×300M
57×300M
82×450M
Weight
1.8kg
2.3kg
3kg
Printing method
Thermal transfer
Printing density
300dpi
Flow direction
Right and left handed
Input method
Touch panel input device or PC
Interface
USB・RS232C(Option: LAN [SCS430]):CAN
Calendar function
Auto calendar
Font
Windows font
Operating temperature
Temperature 5~40℃, Humidity 10~85% (no dew condensation)
Radial control
1 to 5 divisions
Intermittent type (head movement) SCS400i series
Product Name / Model
SCS410i
SCS420i
SCS430i (in development)
External dimensions
165(W)×187(H)×60(D)
165(W)×187(H)×82(D)
Power supply
DC24V・3A
DC24V・6A
Tracking speed
100~200mm/sec
100~200mm/sec
Maximum print width
32×40mm
53.3×40mm
Thermal ribbon
36×300M
57×300M
Weight
2.2kg
3.0kg
Printing method
Thermal transfer
Printing density
300dpi
Flow direction
Right and left handed
Input method
Touch panel input device or PC
Interface
USB・RS232C
Calendar function
Auto calendar
Font
Windows font
Operating temperature
Temperature 5~40℃, Humidity 10~85% (no dew condensation)
Continuous type CPS-64Pro
Product Name / Model
CPS-64Pro
Work size
Roll film width
Printing method
Thermal ribbon heat transfer method
4 inches head 12 dots 1280 dots / line
2 inch head 12 dots 640 dots / line
Print head
4 inches 12 dots
Print area
106×200mm(L)
Printing speed / number of processed sheets
200mm/s【80mm/s~300mm/s (Changeable setting)】
90 sheets/min MAX Encoder mountable
Character type
Barcode (2of5[ITF]、JAN[13.8]、2of7[NW7]、3of9[CODE29]、
CODE・128[CODE SUBSET A、B、C]) ・OCR・Line・CR code・Win font 8 types・Vertical、Horizontal enlargement (1 to 4 times)・ANK・Chinese character
Print position / Print direction
Free setting (There are a dead zone in some areas, and an unprintable position.)
0° / 90° / 180° / 270°
External dimensions
160×330×280
Power supply / Weight
AC100V・120W・50/60Hz・8kg(64Pro)
Option
Editing software, encoder