By incorporating a direct thermal printer into your packaging machine, we enhance your product value.
Please use it as an option of your product.
The price of conventional hot printers and hot rolls are low, and conventional printing machines have been adopted them. However, customer needs are shifting to direct thermal printers, inkjets, laser markers, etc. equipped with a calendar function. Above all, direct thermal printers have high quality compared to inkjet printers, and they can also print images like company logos. We are now able to print more information.
It is necessary to replace print in the conventional print type. So, it has imposed the effort to replace the print, and brought an accident due to a mistake in inserting the print and a problem with pinholes.
A designated input device makes it easy to manipulate date changes and eases the burden on the site. Also, there is no need to warm up the print before work, and the machine starts immediately when the power is turned on. There is no time loss for the machine to warm up, and this is an effective way to work on busy sites.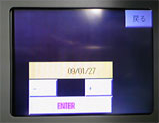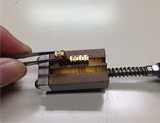 Benefits to customers
In order to meet various needs of our customers, we have direct thermal printers capable of printing widths of 1 inch, 2 inches and 3 inches, and we have continuous and intermittent types * 1 as well.
In addition, there is also a model equipped with a radial ribbon save control function only for the 1-inch direct thermal printer. The printer itself automatically arranges and controls the character height and the number of lines, so it enables you to reduce the running cost of direct thermal ribbon which is consumable.
It is an effective and meaningful optional function for customers using date-only printing.
*Note 1: There are some products under development for intermittent type.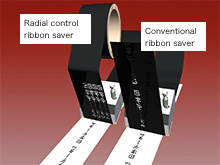 Achieve collaboration with your products with high flexibility
World's smallest compact design
What can be done with a direct thermal printer that has been developed to be simple, compact and lightweight
Our direct thermal printer for packaging machines is designed to be ultra compact.
It becomes the best direct thermal printer when you want to install in a limited space such as reverse pillow machine as well as general pillow packing machine.
This compact and lightweight direct thermal printer is built into our products.
For example, the width was slightly extended to 4 of 5 types of feeders, and this direct thermal printer was mounted in the space. That is the "Desktop Integrated Direct Thermal Printer" series. It is a model that reduces the number of parts by integrating the feeder and reduces the cost.
We also installed a direct thermal printer on the labeler "ALS-100II". This is a product that prints and labels in a small space on the manufacturing line.
Printing variable information such as date, time, lot printing, ingredient, logo, trademark, marketing information on soft packaging material has been proven.
Please feel free to contact us if you have any problems with printing or display.