CS Series CS-85ATⅡ / CS-220ATⅡ / CS-350ATⅡ
General-purpose automatic stamping / Counter check stamper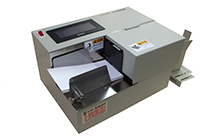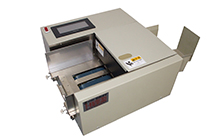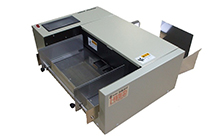 Check stamper is a compact general automatic stamp counter that can quickly stamp on the targeted part.
It became easy to replace the stamped plate by introducing one-touch plate. This machine supprts from small labels such as egg packs to large ones of A3 size.
It helps your work if you always stamp the same size on the same place such as stamping revocation on various types of cash vouchers, official seals on invoices, and date on a variety of tickets.
We support three types of general machines depends on the width of the work.
The system is quite simple. When the work steps on the sensor, the drum on which the stamp plate is sete rotetes once.
It's an easy operation with touch panel. You set the number of sheets and register the stamp position on this touch panel. From next time you only have to select the registered code. In addition, you are able to stamp the specified number if you set the sheets on this touch panel.
Shipping label, parts label, warranty card, carton, reception slip, gift certificate, admission ticket, shipping slip, check, coupon, date stamp on invoice, number stamp, circle, reception seal, inspection pass mark, name seal, Lot number, part number chicken egg industry, travel agency, amusement park, ski resort, various entertainment facilities, hotel, liquor sales association, specialty store association, printing company, electric machine maker etc.
CS Series CS-85BⅡ / CS-350BⅡ / CS-SAPⅡ
Handrail endorsement / automatic stamping machine for bill drawing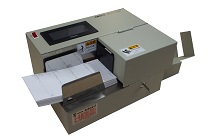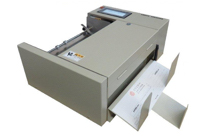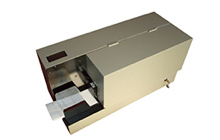 There are "small endorsement dedicated automatic stamper" and "Bill & endorsement combination automatic stamper", and both are equipped with a dual detection device.
Signing and imprinting of bills is a repetition of simple tasks, but it is one of the important tasks.
Based on the check stamper, we made a product which supports bill endorsement of accounting department and financial institution.
The stamping position is not a detailed setting by the numerical value, but can be made instantaneously by turning the switching dial to the limited position in the 1st, 2nd, 3rd and 4th stages. In addition, a control key is set in the cover of stamping plate and it locks when the key is removed. We assure the high security. The important signature version can be removed with one touch, so you can safely keep it after use.
For signature, seal, seal, stamp stamp, endorsement (signature, seal), endorsement (seal) for financial institution, leasing company, finess company, department store, and construction industry.
CS Series CS-220PFⅡ / CS-220PFNⅡ
Automatic sealer check stamper for A4 size travel brochure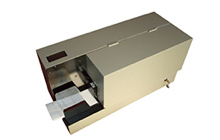 This product is developed based on the check stamper. It is a product that can be used for the purpose of imprinting the company name and store name on a travel brochure for travel agencies.
The work is not a paper, but is assumed to be a booklet with a thickness and weight up to about 6 mm, so the height adjustment part of the reverse roller can be roughened. The transport feed side is also standard designed to increase torque by changing from cam type to belt type.
Optional W inking allows for sharper impressions and is used in many brochure stampers.
The pamphlet stamper becomes the best solution if the speed is required.
Switching from stamper
Plateless direct thermal printer system
With the introduction of the direct thermal printer, you won't be worried about the troubles of daily plate replacement work and dirty hands due to ink replenishment. Therefore, the work efficiency is significantly improved.
The printed contents can be easily created and managed on a personal computer, making it easy to change company name / address change / contact person's name.
There is no need to make a plate, and the data you have created can be printed immediately, so you do not have to wait for its completion.
Many customers have introduced our system including check stamper and in-pack date-stamping machines in egg industry. Also, recently, our customers have purchased a thermal printer type with calendar function, which has good print quality from print type and does not require date print replacement.
Specifications (It may be different depending on the destination country.)
CSシリーズ CS-85ATⅡ / CS-220ATⅡ / CS-350ATⅡ
Model
CS-85ATⅡ
CS-220ATⅡ
CS-350ATⅡ
External dimensions
345(W)×195(H)×205(D)
345(W)×195(H)×326(D)
345(W)×195(H)×456(D)
Power supply
AC100V 50W
Weight
10kg
15kg
18kg
Capacity
150 sheets/min
120 sheets/min
90 sheets/min
Load capacity
70mm(Height) Approx.100 sheets
Stamping range
75(W)×150(L)
180(W)×150(L)
300(W)×150(L)
Paper size
30-100(W)
60-220(L)
60-210(W)
60-220(L)
60-340(W)
60-220(L)
Ink device
Self-contained ink roller
Ink color
Red・Blue・Black etc.
CS-85BⅡ (endorsement only) CS-350BⅡ (handout / endorsement) CS-SAPⅡ
Model
CS-85BⅡ
CS-350BⅡ
CS-SAPⅡ
External dimensions
345(W)×195(H)×205(D)
345(W)×195(H)×456(D)
670(W)×360(H)×300(D)
Power supply
AC100V 50W 50/60Hz
AC100V 150W 50/60Hz
Weight
10kg
18kg
Sealed place (Quote)
–
Signature seal・Representative employee・Date・Stamp duty seal・Percussion
–
(Endorsement)
Signature mark · Representative employee · Insurer (bank name etc.)
Processing speed
Approx. 90 sheets/min
Approx. 50 sheets/min
Load section
Approx. 50 sheets
Approx. 100 sheets
Counter
–
Stamp position confirmation
Manual setting
Confirm seal of each step with camera, and equipped with specified seal position automatic function
CS-220PFNⅡ
| Model | CS-220PFNⅡ |
| --- | --- |
| External dimensions | 345(W)×195(H)×326(D) |
| Power supply | AC100V 50W |
| Weight | 15kg |
| Capacity | Max. 90 sheets/min (flyer) |
| Load capacity | Max. 80mm |
| Pamphlet thickness | Max. 6mm |
| Sealing range | 180(W)×100(H)mm |
| Paper size | Max. A4 size vertical flow |
| Ink device | Self-contained ink roller |
| Ink color | Black, Blue, Red |