High technical skills: make impossible to possible
One of the development policies is originality. We don't imitate the system of conventional product, but are always concious of adopting new ideas in pursuit of simplicity and compactness.
The reason we have been widely accepted from the market due to our technological strength and the spirit of challenge.
Our unique feeder technology
The most difficult mechanism is to separate bags one by one.
There are many types of bag that are said to be standard products, and there are various bags which are different from material, thickness and size.
We know it's not possible to cover many types of bag with one supply part. Therefore, we propose the best one from 5 supply parts. We make an adjustment to supply part before we hand to our customers.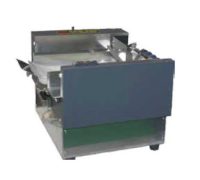 Application performance: embody customers' need
We verify the commercialization right after we receive requests from customer. Therefore, we start working on the development immediately after we make sure the specific conditions such as marketability and functionality. Because of this system, we are able to deliver the product to our customers before other companies.
New products from customer requests
The machine we are currently offering is by no means complete.
Since customers' need change with the times, we promptly accept the request. If we think it is a common request in the industry, we add the feature and release the product. Because of our speedy response, one of the leading companies praised us saying "Shinmei responds to customers request immediately."
This is the biggest reason why many companies choose us.
Ability to make proposals: combine systems based on the site
We mainly sell direct thermal printers and labelers.
Our printing and display machines specialized for soft packaging materials can be customized in various ways depending on the combination. We meet the needs of our customers.
Various products that meet the required functions and space
Our desktop machines are divided into units by feeders, printers, labelers and stackers, and have a simple structure such as connecting only one or two cables. We propose combinations that match your application.
Please contact us if you have any problems with printing / labeling.